In Eastern Europe, during the late 1960's, interest in American jazz was one of the few pro-Western "uncensored" political statements. For many, this peaceful expression of opposition was a cultural contributor to the development of the Solidarity movement.
In recently published major Polish history books on the subject, Sapieyevski is acknowledged as a pioneering figure in the creation and promotion of the music style that fused classical idioms with elements of American music. And this is how it started:

Meridian International Center
Celebrating the History of Cultural Diplomacy
America's Jazz Ambassadors Embrace the World
To the Organizers of "Cultural Ambassadors" Celebration,

With great interest and moving memories, I am participating in the 50th anniversary celebration of The Dave Brubeck "Cultural Ambassador" tour. I was a direct witness and an early product of this program.

In the midst of the Cold War, I was a young boy attending music school in Gdansk, Poland when I won a lottery ticket to a live American jazz concert in the old movie theatre named "Leningrad". I thought through the insistence of the State Department, some of the tickets were distributed by drawing. Otherwise, mostly top Communist Party members and their families would be permitted to attend such event.

Wearing short pants and the cleanest white shirt, I went to hear The Dave Brubeck Quartet, the first jazz concert of my life. This unforgettable experience changed the way I listened to and studied music, not to speak of feeding my passionate interest in American culture. I tried to listen to every jazz recording I could find, which was very difficult in Poland. Living in the port city of Gdansk, the birthplace of Solidarity, one could sometimes connect with a friend of a merchant marine who may have smuggled western recordings into Poland. (There are many interesting aspects of this situation, about which I discussed in my guest talks for the State Department's Foreign Service Institute.)

A few years later, as a teenager, I began to experiment with combining my school education in classical music with what I was learning from jazz musicians. I created an ensemble that included a vocalist and a string quartet. I received several awards in Poland, including three Prizes at the "Jazz nad Odra Festivals".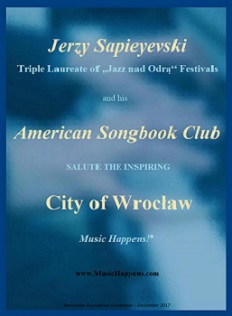 This was one of the Polish political responses to the West, as "Jazz on the Oder [River]" implied the permanence of our Western border with Germany, which was part of the Cold War discussion.

My compositions combining classical and jazz elements, "Third Stream" music, were the first in Poland, as well as some of the earliest in the world. Notably at the time Modern Jazz Quartet among others, did several recordings of this type of compositions.
As a result, I was invited to perform at the Jazz Jamboree in Warsaw. By 1966 this was the most prominent Jazz festival in Eastern Europe. One of the invited guests was Willis Conover, the famous producer and director of the program, "Music USA - Voice of America Jazz Hour". Despite constant airwave jamming, millions in Eastern Europe tuned in every night. It was one of our best "schools" of jazz. I stated this fact at one of the last tributes to Willis before his death in 1996. After many years, the circle closed. I was commissioned by the New York chamber ensemble, "An die Musik" to write a piece for them. At the same time, unbeknown to me, they had also commissioned a piece from Dave Brubeck. Coincidentally, at some future time both pieces were played on the same program. When I very briefly met Dave Brubeck between rehearsals, I told him my story and we also talked about influence of Chopin on our music.

This symbolic and important celebration could be an example of well-designed "Cultural Diplomacy", especially in the world that America now faces. Connecting through music is one of the best tools in bringing people together, or at the very least, improving international understanding. Music, and the "soul" it evokes, inspire people to look beyond differences and historical hostilities.

AmericanSongClub
Music Publications
Innovations
Home
MusicHappens
CustomMusic
WebOrchestra
Events
WebSchool
Workshops
Contact
*AmericanSongClub; MusicHappens; are Sapieyevski/NewCenturyMusic trademarks