Jerzy Sapieyevski is an award-winning composer, pianist, and innovator. He is the founder of NewCenturyMusic and as artistic director/producer, he brings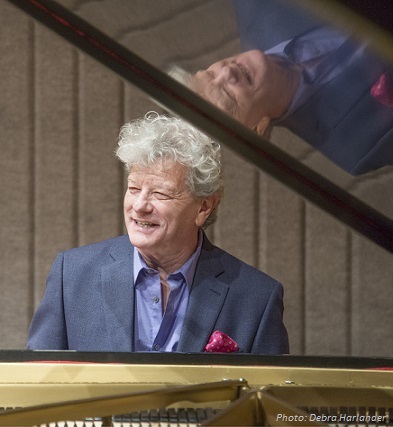 some groundbreaking ideas to the concert stage and education.
A composer/pianist, (hear music samples) he presently performs concerts which unite diverse styles of music into one-of-a-kind creations drawn from the interaction with the audience. (And on YouTube...)
The distinctive voice of his compositions finds its inspiration from the American spirit of George Gershwin, innovation of Philip Glass and the spontaneity of improvisations by Keith Jarrett and Dave Brubeck.
Sapieyevski brings a new approach to piano performance blending popular and classical styles into multi-layered "sound sculptures". The Art of Sound - the Sound of Artsm was a project devoted to the development of a new generation of multimedia events. Sapieyevski's commissions and performances included the Kennedy Center, Library of Congress, Carnegie Hall, and some major academic centers. The score for the Shakespeare Theatre's Production of "Richard III" (Stacy Keach) was nominated for a Helen Hayes Award.
In 2005 Jerzy Sapieyevski was decorated with the "Knight Cross of the Order of Merit of the Republic of Poland". He was also a guest lecturer on Cultural Diplomacy at the Foreign Service Institute and delivered very popular pre-concert talks at the Kennedy Center in Washington D.C. "MusicHappens® events also serve the growing demand for music applications towards the enhancement of thinking skills and emotional capacity.
Major performers of his classical compositions included: the Tokyo String Quartet, An die Musik, Manhattan String Quartet, American Wind Symphony and the Atlanta Symphony, among others.
Jerzy Sapieyevski, a triple laureate of "Jazz nad Odrą" festivals, began music and engineering studies in his native Poland and later completed his music degrees in the United States. Acknowledged in The Oxford Dictionary of Music, he is especially interested in creating interactive performances that bring together various disciplines in live events - "MusicHappens®!"
His AmericanSongClubtm sheds new light on the music that shaped American consciousness. In its musical intimacy it promotes talent development, social understanding and cultural interaction through the tradition and meaning of the world-famous, time-honored American songs.
Sapieyevski appeared with the celebrated Polish actress Anna Dymna, in her reading of poetry by the Nobel Prize Laureate, Czeslaw Milosz. "Aesop Suite" narrated by the renowned attorney Robert S. Bennett, explores the synergy between musical phrasing and gifted oratory. In his multimedia events, painters - in live performance - engaged in a visual and musical dialogue with the pianist.
These collaborations with artists Makoto Fujimura and Alexander Kaletski are examples of an innovative approach. After a New York event, the Associated Press syndicated: "Can a painting create music? An experiment in painting and music pushes boundaries" and a leading science writer, James Trefil suggested that these types of explorations "are the lifeblood of art".
Sapieyevski's versatile creative activities prompted the US Chamber of Commerce to choose his profile as one of the case studies, Faces of IP for a presentation in support of intellectual property protections. He is a voting member of The Recording Academy (Grammy®).
RECENT COMPOSITIONS and EVENTS:

"AMERICAN SONGBOOK CLUB" - Workshop and Concert, Gdansk, Poland 2018;
"MERCURY CONCERTO" - Hillsdale College, Michigan; 2018;
"PAINTED MUSIC" for Orchestra - University of Texas RGV Orchestra, Brownsville, TX and Edinburg, TX; American University Orchestra, Washington DC, 2017;
"A Tribute to GLENN FREY (Eagles - Desperado)" - LIVE! with David Keplinger, vocals, Washington DC, 2017;
"OSHER INSTITUTE (OLLI)" - What makes the Great American Songbook so enduring? Performance/Lecture - Washington DC, April 3, 2017;
"AMERICAN SONGBOOK CLUB" - Katzen Museum, DC, Feb. 26 2017;
"STYLE and IDENTITY in MUSIC COMPOSITION" - Master Class, University of Texas, Edinburg TX, February 5, 2016; Ann Ferren Conference, DC, 2017;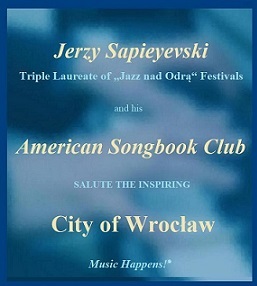 (Celebrating the City of Wroclaw,
Kosciuszko Foundation, Dec. 2017)
"MERCURY CONCERTO" - Laurier University, Waterloo, Canada, March 12, 2016;
"AESOP SUITE" - CKUA Radio Network, Canada, December, 2016;
"PAINTED MUSIC for Orchestra" - Valley Symphony Orchestra, Performing Arts Center, McAllen TX, February 4, 2016; American University Orchestra, DC, 2017;
"PICASSO'S CAFE de la ROTONDE" - music interpretation, composer/performer, The Kreeger Museum, Washington DC, January 21, 2016;
"MUSIC OF THE WARSAW UPRISING" - artistic director/composer/performer, The Embassy of Poland, Washington DC, September 10, 2015;
"VIVALDI PICCOLO CONCERTO" (Orchestration) - United States Army Field Band, Gala Concert and Closing Ceremonies of the 2015 National Flute Association Convention, Washington DC, August 16, 2015;
"ARIA for SAXOPHONE" - International Saxophone Festival, Poland, 2015;

"FOREVER is COMPOSED of NOWS" - Crystal Records (CD) featuring "Aesop Suite", 2014;
"YOUR SMILE and CHERRY BLOSSOMS" - RMS Records single and a music video, 2014;
"MUSICAL PORTRAIT - JAN KARSKI" - Kosciuszko Foundation, Washington DC, 2014; Pheo-Para Alliance Special Presentation, 2014;
"PAINTED MUSIC" - for orchestra, 2014 (9')
MUSIC for "PROTEST" - a play by Vaclav Havel, Ambassador Theatre Co., DC, 2013;
"TRUMPET CONCERTO" - the Eastman Wind Ensemble performance at Kodak Hall at Eastman Theatre, 2013;
"MUSIC - The BRAIN'S SOFTWAREtm"- Concert-Conversation with Dr. Joel M. Oster, MD – Neurology, Lahey Clinic, Boston, Nov. 4, Katzen Center, DC, 2013;
"THE AMERICAN CLUB" - Piano compositions and arrangements, Katzen Center, DC, 2012;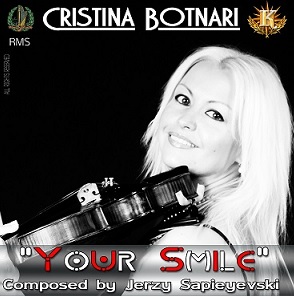 "POETRY BY CZESLAW MILOSZ" - Piano interludes for reading by Anna Dymna; Consulate General of Poland, New York, 2011;
"ARE YOU BLUE?" and "ARE YOU BLUE 2?" for Piano Solo, Katzen Center, DC, 2010;
"VARIATIONS on a THEME by PADEREWSKI" A Tribute to Gen. Edward Rowny, Senator Chuck Hagel - guest speaker, Embassy of Poland, DC, 2007;
"PAINTED MUSIC" Interactive Electronics and Painters, American University, DC, 2006, (20'); Collaboration with Makoto Fujimura, A. Kaletski, Dillon Gallery, N.Y., 2007,2009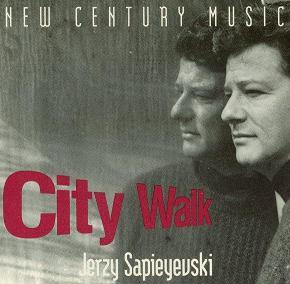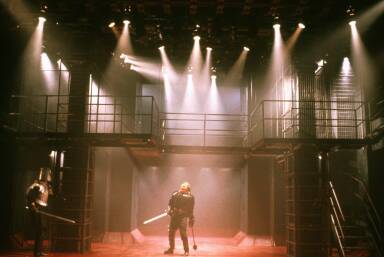 RICHARD III (Stacy Keach)


SCORES in PRINT

PUBLISHED COMPOSITIONS:
(acoustic music)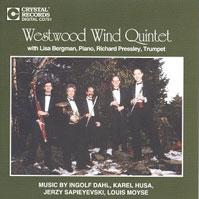 SONGS OF THE ROSE (Presser Co.), Kennedy Center/WPAS Washington DC, The National Cathedral; The Gregg Smith Singers;
ARIOSO, for Trumpet and Woodwind Quintet (Presser Co.), commissioned by The International Trumpet Guild. Performed: Western Illinois University; The Palm Beach Music Festival; Zagreb (Croatia) Wind Ensemble, Zagreb, Croatia; ITG Conference, Dallas, Texas; Waterloo Music Festival, Princeton, Univ., Crystal Records;
MAZURKA for string quartet (Presser Co.) commissioned by the Library of Congress. Performed by Manhattan String Quartet in Moscow; Tokyo String Quartet on U.S./European tour; Soviet Emigre Orchestra, Australian tour; TV "CBS Sunday Morning";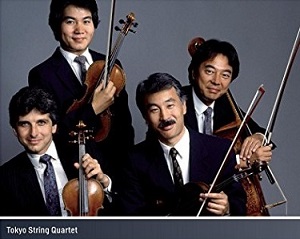 AESOP SUITE for Brass Quintet and Narrator (Presser Co.) commissioned by the Annapolis Music Society for Annapolis Brass Quintet and An die Musik Ensemble. Performed on American/European Tour, Recorded on Crystal Records, Belgian Radio, and Newport Classics - a Grammy® nominated album, (15')
MORPHEUS for wind ensemble (C.F. Peters Corp.) American Wind Symphony, Recorded on AWSO Records, (8')
TOADA IN MEMORY OF VILLA-LOBOS, for Clarinet and Piano (Presser Co.) commissioned by the Delmar Foundation for the Dumbarton Concert Series
SCHERZO DI CONCERTO for Wind Ensemble (Tokyo, Japan, OngakuNoTomo Sha),(5')
GAMES for Brass and Percussion (C.F. Peters Corp.,) American Wind Symphony Series;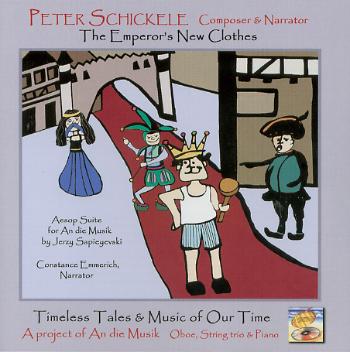 ARIA for Flute and Piano (Presser Co.) Performed by An die Musik, Kennedy Center, (11')
LOVE SONGS (to poems by Anne Lindbergh) for voice and piano (Presser Co.), The Philips Collection Series, Washington DC;
MERCURY CONCERTO for Trumpet and Orchestra (C.F. Peters Corp.), Eastman Wind Ensemble, Kodak Hall at Eastman; Armando Ghitalla and AWSO. Recorded on AMCAM Records, and by Alex Jokipii on ALBANY Records(15')
TRIO FOR AN ITALIAN JOURNEY (Presser)
SUMMER OVERTURE for orchestra (Presser Co.), Virginia Youth Orchestra, (10')
ARIA for saxophone (Presser Co.), Miller Sigmon
SCHERZO DI CONCERTO for Band (Presser Co.)
CONCERTO FOR VIOLA (Presser Co.), R. Hillyer, The Philips Collection, Crystal Records;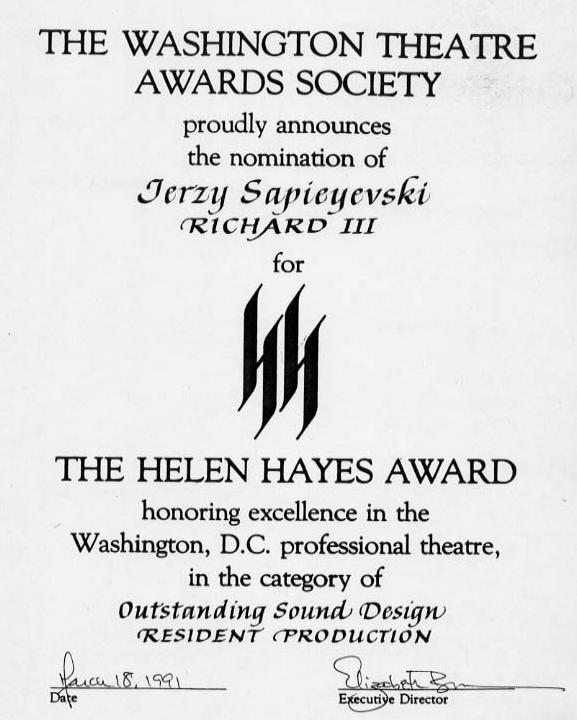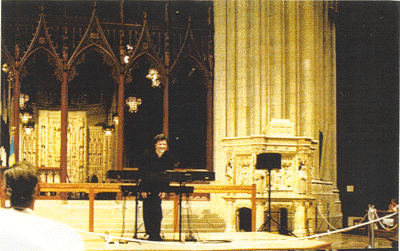 The National Cathedral Concert - Washington, DC
GO TO THE LISTENING ROOM
SEE OTHER INNOVATIONS AND CREATIVE PROJECTS